2023.4
World's First Fiber Extraction Technology to Transform Society from Pineapple Leaves Unveiled
On April 24, 2023, the world's first unveiling of fiber extraction technology was held for government officials and apparel-related companies at Shibuya Ruhr Togo.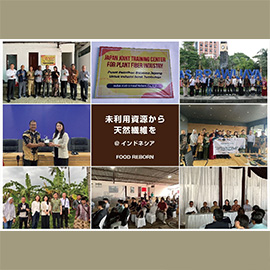 2023.4
To the production of natural fibers overseas
The Japan Joint Training Center for Plant Fiber Industry was established in Malang, East Java, in cooperation with Induk KUD, the largest agricultural organization in Indonesia, and a new fiber A new type of fiber extractor (patent pending) has been installed at the center.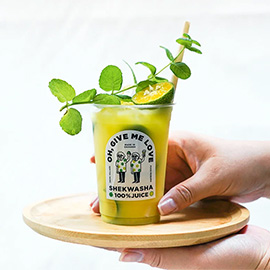 2022.11
OH ,GIVE ME LOVE's Shikwasa 100% juice is now on sale
OH, GIVE ME LOVE Shikwasa 100% Juice" is now on sale!
Ogimi Village Shikwasa
Additive-free, straight fruit juice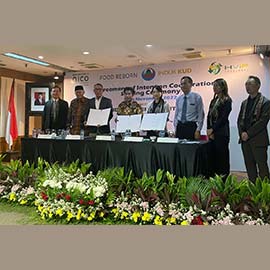 2022.11
INDUK KUD and FOOD REBORN NICO International Association for Natural Fiber Recycling held an MOU signing ceremony in Indonesia.
On November 10, Induk kud and FOOD REBORN NICO Natural Fiber Recycling International Association held an MOU signing ceremony in Indonesia.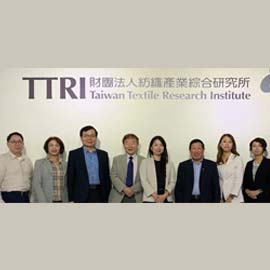 2022.10
Collaboration with TTRI, Taiwan Spinners' Association
During a visit to Taiwan on October 21, 2022, we were also able to further discuss specifics of future collaboration with the Taiwan Textile Association (TTTA ), which unites 215 textile companies, and we are in the process of concluding a strategic partnership agreement.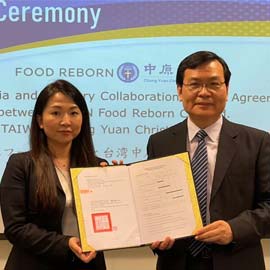 2022.10
Signing Ceremony for Industry-Academia Collaboration with Chung Won University, Taiwan
On October 20, 2022, we held a signing ceremony with Chung-Won University in Taoyuan City, northern Taiwan, on industry-academia collaboration.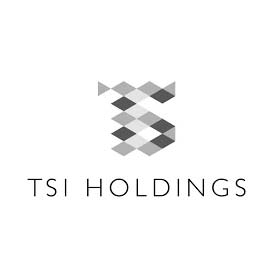 2022.10
Business alliance agreement signed with TSI Holdings and Teshima Corporation.
Food Ribbon Co. ( Representative Director Etsuko Uda ) is, TSI Holdings, Inc. (President: Takeshi Shimoji) and Teshima Corporation (President: Hanshichi Toyoshima) have entered into a business alliance agreement with the aim of contributing to sustainability through the planning and production of natural fiber products from unutilized agricultural products.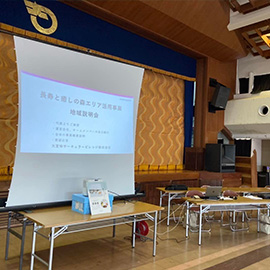 2022.7
Longevity and Healing Forest Area Utilization Project
The project was originally called the "Longevity and Healing Forest Area Utilization Project," which was originally an area of village-owned land that had been in use since 1995. We have been working together as a team to create a joint venture with Food Ribbon, and we have received the preferential negotiating rights.
Food Ribbon will be primarily responsible for planning and operation, but the use of the area will be discussed and managed and operated by a team of joint venture partners.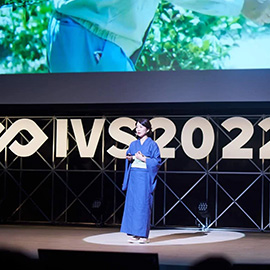 2022.7
Food Ribbon was awarded second place in the IVS LAUNCHPAD, a gateway to success for venture companies.
The finals of the IVS2022 NAHA pitch contest were held on Friday, July 8, 2022.
Fourteen companies participated in the finals, and FOOD REBORN was awarded second place for its pitch about a service called "Farmers Textiles," which turns the world's unused agricultural resources into natural fiber.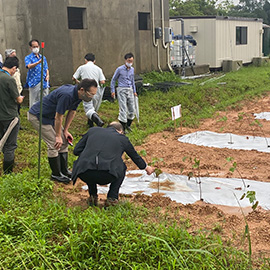 2022.6
Began test cultivation of the world's finest Sea Island cotton
Release of the start of experimental cultivation of Sea Island Cotton, a jewel of the Caribbean, in Ogimi and Higashi villages.
The company has contracted with Sea Island Club (Tokyo, CEO: Toriyoshi Nishimoto), which manages Sea Island cotton seeds and cultivation, for the third cultivation site in the world.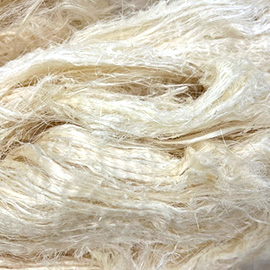 2022.6
Food Ribbon begins full-scale extraction of fiber from pineapple leaves and banana stems in the province.
We have developed and applied for a patent for a technology to efficiently extract high quality natural fiber from pineapple leaves, banana stems, and other agricultural by-products.
Started extracting fiber from the stalks left after banana harvesting in Higashi Village.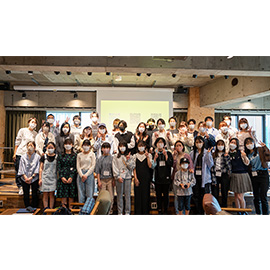 2022.4
Workshop for students on "Global Warming and the Future of Sustainable Fashion" in Tokyo
Held a lecture and workshop "Global Warming and the Future of Sustainable Fashion" for students in cooperation with SWiTCH (Shibuya-ku, Tokyo), a general incorporated association.
The venue is Shibuya Open Innovation Lab (SOIL) with the cooperation of Tokyu Corporation.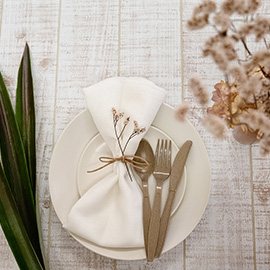 2022.4
Biodegradable cutlery presented
Biodegradable cutlery made from pineapple leaves" was presented at the International Sustainable Goods Expo (Tokyo Big Sight).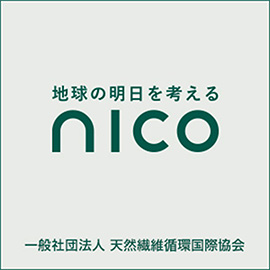 2021.11
International Association for the Circulation of Natural Fibers established.
Uda joined the founders of the "Natural Fiber Circulation International Association" (NICO, President: Tamotsu Yagiwara), a general incorporated association that aims to promote the circulation of natural fibers, mainly in the fashion industry, beyond the boundaries of industries and countries based on the idea of "creating a sustainable, recycling society through the circulation of natural materials.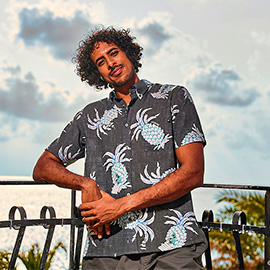 2021.7
Aloha shirts made of pineapple fiber fabric now available
The world's first aloha shirt made from pineapple fiber.
The sustainable "Mickey & Minnie Aloha Shirts" are a limited edition design by Ginza Wako and the Okinawa-born aloha shirt brand "PAIKAJI.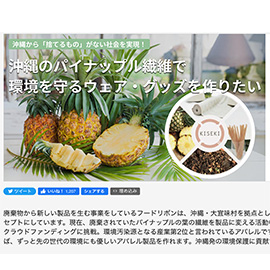 2021.7
Crowdfunding to install and expand machinery.
Crowdfunding has helped us pay for the installation and expansion of machinery to produce Okinawan textiles.
This custom-built machine, optimized for extracting fiber from Okinawan pineapple leaves, will be the cornerstone for full-scale production in the future.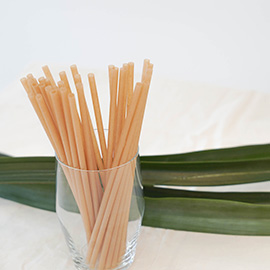 2021.5
Pineapple leaf fiber straws now available
It is an environmentally friendly product made of natural materials that returns to nature, blended with PLA and the residue left over from extracting fiber from the leaves of pineapple trees that were discarded after harvesting.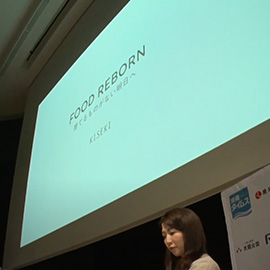 2021.3
Participated in OKINAWA Startup Program
[Okinawa STARTUP PROGRAM] The Okinawa Startup Program (OSP) aims to nurture competitive venture companies. We were selected as one of the 11 companies for the project presentation.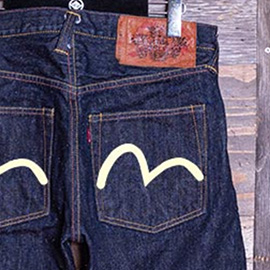 2021.1
EVISU Jeans✕ KISEKI LABEL
Presentation of sustainable jeans from Okinawa in collaboration with EVISU, one of Japan's leading jeans brands.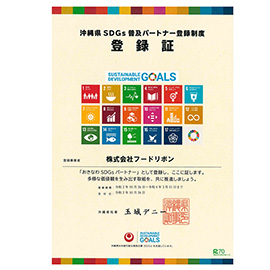 2020.12
Registered as an Okinawa SDGs Partner
We have been registered as an "Okinawa SDGs Partner".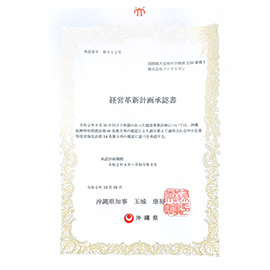 2020.12
Management Innovation Plan" approved.
We submitted and received approval for our business innovation plan on the theme of "Creating a textile industry that makes effective use of pineapple 'leaves'.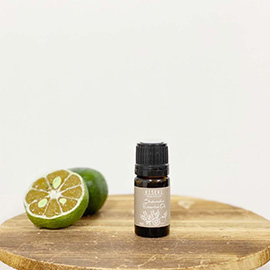 2020.10
The Ritz-Carlton, Okinawa will carry Shikwasa aroma oil
Our Shikwasa essential oil was used during the turndown service at The Ritz-Carlton, Okinawa.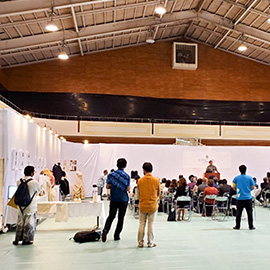 2020.10
Business Presentation at Okinawa Youth Development Association
The project presentation was co-sponsored by the Okinawa Industrial Development Youth Association Gymnasium (Higashi Village, Kunigami-gun), with the cooperation of Okinawa Churashima Farm Corporation, an agricultural production corporation, and with the support of three Yanbaru villages, Higashi Village, Ogimi Village, and Kunigami Village.
Mayor Touyama of Higashi Village, Mayor Miyagi of Ogimi Village, and Mayor Chihana of Kunigami Village attended the meeting.
Governor Tamaki gave a video message, and Okinawa Industrial Development Youth Association President Yoshikawa and Okinawa Churashima Farm Representative Director Maekawa gave words of encouragement and expectations.
A surprise guest speaker was Professor Katayama of Waseda University Graduate School of Engineering. A total of 41 people from related organizations, companies, and designers also participated in the event.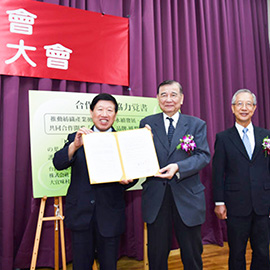 2020.7.9
MOU concluded with Taiwan
Ltd. and Ogimi Village to promote the development, manufacture, and sale of apparel products using pineapple leaf fiber, as well as mutual sustainable development and sustainable environmental protection initiatives under the "KISEKI LABEL" brand. The memorandum of understanding was concluded for the purpose of promoting mutual sustainable development and sustainable environmental protection initiatives under the KISEKI LABEL brand.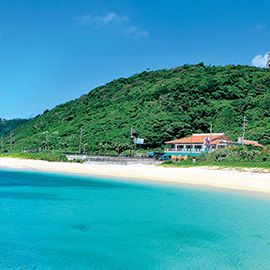 2019.11
Head office moved from Urasoe City, Okinawa to Ogimi Village, Okinawa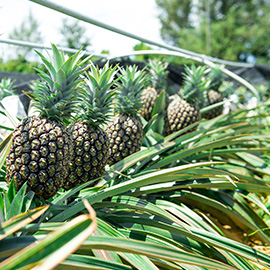 2019.8
Started developing products utilizing pineapple leaves.
The company considered developing a product for pineapple, a specialty of Higashimura, Okinawa Prefecture. The company started product development using the large amount of pineapple leaves that remain in the fields after the pineapple harvest.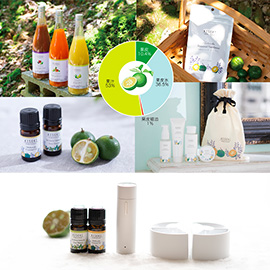 2017
Started product development of Ogimi Shikwasa
The company has developed products including additive-free juice, fruit peel supplements, cosmetics, candy, aroma oil, and more.
The company started a joint project with Okinawa Cellular Agri & Marche as part of the "World Natural Heritage Support Project KISEKI." The company collaborated with Sony Corporation on a number of projects, including the use of essential oils as cartridges for "AROMASTIC.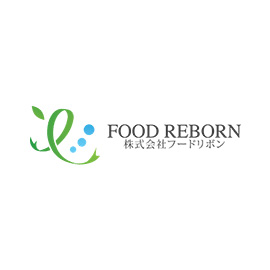 2017.9.20
Establishment of Food Ribbon Co.